I often file away interesting tidbits that I come across while meandering (um, wasting time) on the internet.  Here are a few things I've come across lately, that I've found interesting or helpful.
American Gothic House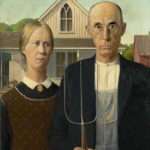 One of the most iconic and recognizable pieces of art is the painting "American Gothic" by Grant Wood.
I was thrilled to stumble upon this Smithsonian article about Grant and Iowa; because I am actually very familiar with that farmhouse behind the farmer and his dour daughter, depicted in that painting.
It's located in Eldon Iowa – a tiny farming community in Southeastern Iowa.  And, it is located just around the corner – literally – from the old, drafty church that my father was a pastor of for a time.
I've seen the American Gothic home in all kinds of states – for a while, someone was living there – but didn't take good care of it.  Then, for a long time, it sat empty, and fell into disrepair.  I may (or may not, I can neither confirm or deny) once thrown a rock at it, trying to hit a window.  I know – that's awful.  I was an ornery, rebellious soul.  But no worries; I missed.  I can't throw to save my life.
I was pleasantly surprised when I returned to Iowa a few years ago, to find that a preservation committee had actually moved the house to a close-by location, restored it fully, and had even built a little museum/gift-shop near-by.
It was fun to read through this article about a taking an "American Gothic-themed Road Trip" through Iowa; and I learned a heck of a lot about good ol' Grant, that I hadn't known before:  American Gothic
Showing Some Pipe Organ Love
Ok, I'll have to admit it – I've never been a huge fan of Pipe Organs.  Mainly because they always seemed such a sore spot in churches I have been in, that had them.  Sacred cows, in a sense.  I've been in meetings where heated arguments have been made both for and against the use of a Pipe Organ in worship.  But after watching this video, I am so much more impressed.  Tim Challies' shared this, over at his site this week.  Wow – so much more to it than I ever thought there was – intricate beyond just a set of dusty old pipes.  Very cool:  Pipe Organ
Most Commonly Used Passwords
The folks over at "Information is Beautiful" have intrigued me again – this time, with a graphic that shows the top 500 most commonly used passwords.  Working in the IT world and knowing the importance of password complexity in the prevention of hackers – well, I found this to be good, geeky fun.  And, maybe a little bit scary.  Folks – if you've not changed your passwords in the last three years, you may want to do that.  Today.  But before you do; take a look at this graphic – and DO NOT CHOOSE ANY OF THESE:  Common Passwords
CDC Conspiracy Theories
Since I've been down hard this week with the flu and bronchitis (and believe me, for me to be down hard, it was a monster of a flu strain!), I figured I share this fun article, about 10 Conspiracy Theories of the Centers for Diseases Control (CDC).  Hmmmm…..something to ponder….you know, if you are into conspiracy theories…..:  CDC Conspiracies
Hawaii Ballistic Missile Threat
On Saturday, my Facebook feed was chock full of friends from Hawaii trying find out if the Emergency Alert on their phones was a true threat or not – and, where to hide/what to do.
It was terrifying for them; I can't even imagine, really, what those moments were like.
But if you know Hawaii at all, you also know that so many of the residents are pretty laid back, with a great sense of humor and a grand outlook on life.  So a shout-out to my Hawaii friends – for your Aloha to each other when the danger was apparently grave; and for your witty response when the all-clear as given – 38 minutes later.  Hawaii no ka oi.  Here's an interesting article about the response at Kualoa Ranch:  Hiding in the Bunker
You are My Sunshine
I love this song.  I love it even better, when sung by this talented big sister, to her 25-month old brother born with Down's Syndrome, that went viral this week.