I often file away interesting tidbits that I come across while meandering (um, wasting time) on the internet.  Here are a few things I've come across lately, that I've found interesting or helpful.
I found a plethora of interesting items about books and reading in the last few weeks, so I have decided that today's "Findings" will be "mostly" focused in that direction – Book Nerds, enjoy!
How "Not" to Read in 2018
Every time Jon Bloom writes over at the Desiring God website, I sit up and take notice – I really enjoy his writing style, and he always has an interesting "take" on any subject he writes on.  His recent article on reading goals for the upcoming year is no exception.  Take a look at his advice on how "not" to read in 2018 – there are several in here that I intend to apply to my own reading goals:  How "Not" to Read
The David Bowie Book Club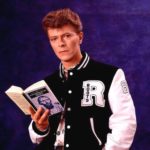 David Bowie died almost exactly two years ago, after an 18-month battle against cancer.  Of course, when I was young, I listened to some Bowie music, but not a lot of it – most of it was a bit before I got into Top 40 and other Chart listening – but one thing I did know about his stuff was that it was different.  Unique.  And unpredictable.
I had no idea, though, that Bowie was a voracious reader, until I read this article in Open Culture.  Bowie's son has begun a David Bowie Book Club, where they are going to read through his top 100 favorite books.  While I wouldn't and can't recommend the titles – most I've never heard of.  Some, just by the title, makes me think it would not be something I would want to recommend – it is still a very interesting story.  And I always enjoy seeing other people's book lists, whether they are similar to my tastes in literature, or very different:  Bowie's Books
Visual Theology's Reading Goals Poster: 2018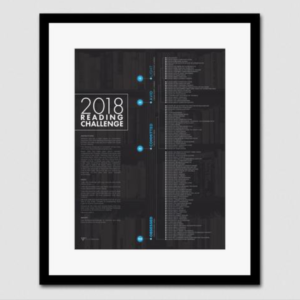 This is the third year in a row that I've purchased Visual Theology's Reading Goal Poster – and I hope they keep making these for years to come!  Working with Tim Challies, they created a poster with a checklist for you to use and challenge/stretch yourself with your reading choices throughout the year.  You can read the first article from 2016, explaining the program here:  Reading Challenge.
When I bought the first edition poster in 2016, I also bought an inexpensive Movie Poster frame – one that was designed to be "easy" to change the poster frequently, with a snap frame.  You can find them with the right dimensions, over at Amazon.  This allowed me to actually "check off" the books I read throughout the year, easily — and it provided an interesting conversation piece on the walls of my home.
I really like this year's colors – I didn't order it until late last week, so it hasn't arrived yet – but I'm looking forward to switching out last year's poster for this year's when it gets here!  (While you are at the Visual Theology Website; check out their other awesome graphics – these would be very cool to hang in an office or classroom!):  Visual Theology's 2018 Reading Challenge
2017 Book Awards
Some folks eagerly await the Oscars – I eagerly await book awards – such as the Pulitzer, the Bookman, and even the Caldecott.
And I always find Christianity Today's Book awards to be – well – interesting.  Sometimes I think they hit it pretty accurately; other times I think they are way off the mark.  Always, I find something that I missed seeing, and will add it to my list of "To-Reads".  This year, I've added Giving the Devil His Due: Demonic Authority in the Fiction of Flannery O'Connor and Fyodor Dostoevsky by Jessica Hooten Wilson and Embodied Hope: A Theological Meditation on Pain and Suffering by Kelly M. Kapic to my list.
You can see all of the Christianity Today 2017 Book Awards here:  CT 2017 Book Awards
GoodReads – Social Media Community for Book Nerds
If you like to read – and you are curious about what others are reading – and if you like stats – head over to the GoodReads site.  It's like a Facebook for readers – you can track what books you are reading, and see what others are reading as well.  It's an excellent place to read reviews and get ideas for new books to check out.  They run a Reading Challenge each year, where you can set your own reading goal for the year, and they will help you track your progress.  At the end of the year, you can get some pretty great graphics showing you your book journey.  It's great fun:  GoodReads Community
And, Just for Fun….A Game of Bingo
I deeply respect Dr. Al Mohler, president of Southern Seminary in Louisville, KY and host of his podcast "The Briefing", which I find incredibly helpful and informative, when I am able to catch it.
I also deeply appreciate Kevin Halloran's humor – and this Bingo Card you can use while listening to Mohler's podcast.
I kind of think Dr. Mohler would appreciate it, too:  Mohler's "The Briefing" Bingo Card