Sexual Assault and Abuse is a widespread epidemic that leaves broken lives and intense shame and hurt in its path.  It's also one of the hardest things to know what to do about, to help foster healing and wholeness once again in the victims.  My goal for this page is to offer a list of resources for caregivers and victims of sexual assault and abuse.  If you know of a resource that I is missing from this list, please feel free to share it with me so that I can consider including it.
Stop It Now! : If you need immediate assistance – this is a good place to start.  This site provides clear directions on what to do if you are worried about a child–who to call, who to email.  There is excellent information in their F.A.Q.s pages, Warning Signs and much more.
Justin Holcomb's Blog: This page on Justin Holcomb's blog offers one of the most comprehensive listings of resources available to victims that I've seen.  A great place to start when looking for assistance and help.
Sexual Abuse:  Beauty for Ashes by Bob Kellerman: This is a brand new book, just released in April.  Kellerman uses the Biblical story of Tamar to address this difficult topic.  I have not ordered the book yet, but when I have read it, I will update this page with a review.
RAINN:  Rape, Abuse, and Incest National Network:  This organization provides many, many resources for victims and their families and caregivers.  I read one of their excellent articles titled "8 Tips to Stay Safe as You Head to Campus this Fall"–an article that every college student should read.  Check out their website to see what they have to offer.
G.R.A.C.E:  Godly Response to Abuse in the Christian Environment : Here is an organization that is solely dedicated to the abuse that occurs in Christian Environments:  Churches, Schools, Camps, Retreats, etc.  It's terrible that we even need such an organization, but I am incredibly impressed and grateful for their work.  Check this resource out, and hope that you never have to consult with them in a tragedy.
Broken Silence:  A Call for Churches to Speak Out : A study by Lifeway Research and published in June of 2014, this extensive report explores the knowledge that churches and pastors have regarding Sexual Violence.  It's a good place to start for a church seeking to increase their awareness of the dire situation and reality of domestic and sexual violence, and to help promote action amongst our churches to not only reach out to those who are hurting, but to also take steps to help bring the staggering statistics of this violence down.
Erin's Law : Erin's law was written and introduced by a young lady who survived childhood sexual abuse.  It's goal is to make it mandatory that "With respect to the renewal of a Standard Teaching Certificate, provides that continuing professional development activities may include participating in or presenting at in-service training programs on sexual abuse and assault awareness and prevention. Provides that the Comprehensive Health Education Program requires age-appropriate sexual abuse and assault awareness and prevention education in grades Pre-kindergarten through 12  along with training school staff on the prevention of sexual abuse."  Even though the focus in on legislature, I provide a link here because their website includes a fantastic list of resources for those dealing with sexual abuse, or for those who minister to those who have been hurt.  There is a listing of age appropriate books that address the issue along with links to prevention programs.  A great resource as well as a fantastic law that I hope will eventually see passage in all 50 states.
Darkness to Light : The most comprehensive site of resources I have found so far.  Kept up to date, this is an active community.  There are resources for parents, current stats, information on prevention programs, survivor stories, commentary on current news items, and that's just scratching the surface.  If you are not sure where to begin in your hunt for resources, this might be a good starting point.
S.C.A.R.S : This resource is located in Bermuda.  Oh, how I wish it was located world-wide.  This is the most comprehensive program that provides resources for victims, parents, caregivers and those who work with victims.  Even if you are not located in Bermuda, you may want to visit this site.  The "Useful Links" page under the "Resources" tab looks to be particularly helpful in providing a starting point.
Darkness to Light: End Child Sexual Abuse : Another good place to begin.  This resource focuses on the prevention of childhood sexual abuse and provides training to that end.  But, they don't stop there.  There are some excellent materials here for parents and individuals as well.  Click HERE to go directly to their page aimed at parents and individuals for a good list of resources, including a place to sign up for Parent emails.
List of Books on Child Sexual Abuse :  Here is a lengthy Amazon list of books that address children and sexual abuse.  I would caution you to read the reviews in order to help inform your choice of books that may meet your particular needs.
MOSAC : Mothers of Sexually Abused Children : Designed specifically for mothers of children who have been sexually abused, this site addresses the many challenges that those mothers face.  Many topics are covered here, including warning signs, secondary victims, Laws, Decision-making and more.  A good resource to check out if you or a parent you know find themselves in this horrific situation.
Shattered Canvas: This organization, based in Maryland,  is a non-profit organization that offers support services to the community by providing education and programs aimed at supporting survivors of childhood sexual abuse and promoting education and awareness for family members, communities, businesses, schools, and colleges.
Voice Today:  A God-Centered organization dedicated to raising awareness of and facilitating prevention of sexual abuse.  Their website has listings of many different resources–hotline numbers, prevention programs, and others.  They have relationships with churches that I am familiar with, such as Johnson Ferry Baptist in Marietta, GA.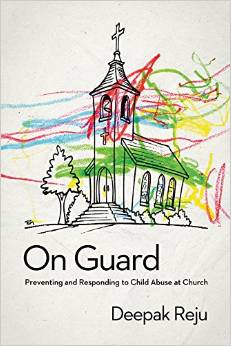 The book "On Guard" by Deepak Reju (pictured above) is groundbreaking in its boldness in addressing child sexual abuse and predators within the church walls.  Reju gives clear assistance to the church in developing a child protection policy, as well as information on how to care for a victim if, God forbid, the unthinkable ever happens in your church.  Which, it could.  A book every pastor, elder, and deacon should read.