Why should we strive to be productive with our time?  So that we can be better equipped to meet the needs of those around us, as well as to adequately devote ourselves to spiritual disciplines.
Below are several tools that I currently use to help establish wise use of my time.  Do I do this perfectly?  Not at all.  But unless I make a concerted effort at redeeming my time, it will not happen.
I've tried so many calendars, but I always migrate back to Google Calendar.  Google offers the best accessibility, adaptability and flexibility.  The interface is easy to use.  I still use Outlook for work, but I can incorporate my Google calendar into my Outlook account.
Calendar:  Cozi
One calendar that I used to use is Cozi.  Cozi is still a great option, particularly for families with busy kids. I probably would still be using it, except it doesn't meet my professional needs.  Cozi supports text messaging, so you can send the entire family, or just one child, a text reminding them of upcoming appointments or games.  If you are a soccer mom, this is perfect for you.
The business standard.  I want to hate it, but I don't.  It works.
Bible Study:  Logos 7
By far the best money investment I have made in computer software or applications and my most important computer software.  Logos has become an integral part of my daily life, particularly, a part of my spiritual disciplines routine.  I use it for prayer, for journaling, and for thorough Bible Study.  Even the most basic package in Logos is worth the money spent.  Easy to use, but with enough features for in-depth study, Logos far outpaces other Bible Study software programs.  It also comes with Apps for both the iPhone and iPad so that I can take my Bible study and notes with me everywhere I go.
Quick Bible Reference:  ESV.org
Sometimes I need quick access to an online Bible for something I am writing or need to look up.  That's when I turn to ESV.org.  They recently upgraded their format and website and I'm very pleased with the results.  There are lots of great resources available here, so if you are not in a position where you can purchase a pricey Bible Study software or if that doesn't meet your needs, try ESV.org.  They do a great job.
I had been using YouVersion to track my daily Bible reading, and I still think it is the most robust program out there.  However, I've switched to reading either in my Logos software or in my hard copy of the Bible instead of inside of YouVersion.  As a result, I just need something simpler to track where I'm at, and the Reading Plan App feels that need.  Lots of different reading plan options.  For 2017, I will be using the 5-day reading plan.
File and Notekeeping:  Evernote
**Update:  I've created an entire new page dedicated to Evernote–you can find it by clicking on HERE.
While I'd like to think my brain is still young and sharp, I'm finding it harder and harder to remember things.  Evernote helps to solve that problem.  Their Logo is aptly stated:  Remember Everything.  I am just now starting to grasp the value of Evernote as I begin to do some more serious writing and research, so I am still learning the program.  But essentially, I can drop anything I want to "keep" in Evernote, and organize it in such a way that I can easily get my hands on it when I need it and can use it.  Michael Hyatt uses Evernote proficiently and writes often about his experiences, including very useful tips.  I suggest you visit his site by clicking HERE and doing a search using the key word "Evernote" to get great advice.
Project Planning-Trello
I stumbled across Trello during the Christmas break, and I'm hooked.  Based on an agile project and delivery plan, Trello lets you build Kanban boards to track your to-dos and tasks.  So incredibly flexible and customizable, it can be used in hundreds of different ways.  I've gotten rid of Todoist, and am now using Trello and Evernote as my task management programs.
When I am disciplined enough to use it, My Fitness Pal has been the best program I have found for calorie counting and exercise monitoring.  Very simple and easy to use, this application is an encouragement to anyone wanting to "get back in shape", or, in other words, lose weight.  Hmmm.  The only problem I have with this application is not the application itself, but my own willpower that falls short.  Ugh.
Ok, for this one there is a bit of investment involved.  But I've found it well-worth it.  As with all fitness tools, they only work if you use them.  And when I use them, I get great results.  I wear the FitBit One and it calculates how many steps I take in a day (the goal is 10,000, which I never reach) as well as how many stairs I climb and how much sleep I get.  This is all synched to my computer.  My Weight Gurus Smart Scale (see below) also syncs my weight and my body fat (!!!) to my computer and my phone every day as well.  So, there is no hiding.  The information is there, in all its ugly truth.  But the encouragement is there, as well, it get off my butt and do something about it.  Oh, and it also tracks how much water I drink.  I do so much better at drinking water throughout the day if I can see that I am making progress toward my goal.
2017 Update:  My Fitbit bit the dust a couple of months ago–it wasn't syncing well and the wrist band had torn from so much use.  I bought a new one…the Charge 2.  So, so pleased with it.  Huge improvement over the version I had.  Can not recommend it enough.
I used to use these apps everyday, but I don't any longer.  They are still very good sites; its just that I can capture everything in my Fitbit app, so I don't need to double that effort.  However, if I am training for a particular event, I probably would use these again.
I didn't realize how important shoe fit was until I got serious about exercise.  My feet hurt all the time, so shoes have become hugely important.  And then this past year, after the half-marathon, I developed a horrific case of plantar fasciitis.  So bad.  Every step was excruciating; especially that first step out of bed in the morning.  It took several months to get it under control—a foot brace for night, compression socks and wraps, foot exercises, two rounds of steroids, two shots of cortisone, and a change in socks and shoes.  It's back under control now, and moving to ASICS Gel-Nimbus shoes has helped.  My feet take a pounding every single day, and the Gel-Nimbus is the most cushioned running shoe out there.  They are pricey, but worth it.
Socks also are important.  I had no idea how important.  I've switched to Experia Thorlo socks for my walking and running.  They have padded heels and forefoot sections, with some compression through the arch.  Well-made, they hold up well in the wash.  Highly recommend–though they, too, are an investment.  They have made a huge difference in the soreness of my feet.
Habit-Building – Streaks
I discovered this gem half-way through 2015.  It's an app that you can set up on your phone to record how many times, in a row, that you accomplish a goal.  For instance, I have it set up for staying under 1200 calories and walking 10,000 steps each day.  For 2016, I've added Reading the Bible to the list.  When I first got the app, my girl was messing with my phone and added a goal titled "Tell Bethany She is Awesome".  I've kept it, and try to text her that everyday.  It's a fun way to track how well you are doing at being consistent in pursuing your goals and disciplines.
I follow several blogs, and Feedly gives me a consolidated place to find all the latest posts. It's pretty basic, clean, and gives me options to share, favorite or save to Evernote.  It works and it's simple to learn.
I much prefer print books over ebooks.  Much.  But sometimes the only format I can get a book in is an ebook format.  Kindle is the best e-book reading program that I have used.  I use a Kindle Paperwhite, especially when I travel or when I am sitting outside in the bright sun.  But you don't have to own a Kindle to use Kindle.  Kindle can be downloaded for free for both PC and Macs, and there is a free iPhone and iPad Kindle reader as well.  The iPhone Kindle app has been a great tool as I sit and wait to pick up my kids from different places, or sit and wait at a doctor's office.  Kindle affords me the ability to highlight (which I do frequently) as well as share what I am reading via Facebook and Twitter.
Goodreads gives me a place to track my reading each year–what I've read, what I want to read.  It's interesting to look back and see what I've read, as well as see what others are reading.  My favorite part is the nerdy stat charts that show my books over the years, the number of pages I've read and–most interesting–the publication years of the books I've read.  There's all sorts of information poured into this app/website.  I have even made a favorite quote list and then placed a widget on my blog that rotates those quotes each day.  For a nerd, it's a great app.
Budgeting and Finances:  Mint.com
I've had a Mint account for a while, but am just now recognizing the value of it as I force myself to use it more and more.  It pulls all of my financial information together into one place that I can have access to on my computer or my phone.  Mint not only helps with budgeting, it teaches the user how to budget and set goals.  They have a multitude of reports you can run, so that you can see visually where your money is going, or even if you have any money at all.  🙂  It's safe, secure, and if there can be any "fun" to be found in tracking finances and paying bills (and I'm inclined to say that there isn't any), Mint.com certainly tries to find it and capitalize on it.
At first I was very intimidated by the idea of moving from Blogger to WordPress.  I tentatively went through the directions for moving my blog and honestly did not expect it to work, but was pleasantly surprised.  WordPress offers so many features, many of which I do not take advantage of because I just really don't have the time to learn about them.  However I like their interface and the results I've had by making the switch.  Michael Hyatt shows you how to make the switch easily at his blog, located HERE.
I did a lot of research before finally settling on BlueHost to host my domain name, and I've been extremely pleased.  The prices are reasonable, the customer service is quick and courteous, and they do not bombard me trying to sell me other products.  In fact, I only hear from them once a year when it is time to renew my domain.  It's been a fantastic partnership that has allowed me to move to WordPress.com and bump up my blogging.
Not exactly a tool for productivity, but a website that I can't help but fall for, in my never-ending quest to set and meet goals.  Day Zero Project encourages you to set goals for your life and to track them.  I currently am creating the beginner list, which is called "101 Things in 1001 Days".  The premise is that I choose 101 "goals" to accomplish in 1001 days.  These are not necessarily "Bucket List" goals, but rather goals such as Lose 50 pounds, read x amount of books, eat at a restaurant you've always wanted to try, visit New York City–could be anything.  Looks like a fun and fascinating way to set and meet goals.
While not an app or tool, Michael Hyatt writes an encouraging post about easy-to-follow routines to help ensure that your day is productive.  I particularly like his suggestion to shut down all apps at the end of the day (such as Facebook/Twitter/Newsfeeds) and in the morning only open the apps you need (which for me would be my Logos Bible Study software and a separate document).  It's one of those articles that is good to save to Evernote and review occasionally.
This is a simple productivity app that I use when I want to stay focused and work through a series of tasks.  Consists of a simple 30 minute timer with several different options.  If I want to do a 30 minute blitz clean of the house, or spend 30 minutes working on getting my email inbox down to zero, this app helps me get it done.  I can do even the most tedious tasks for 30 minutes–30 minutes won't kill me.
I almost always find what Tim Challies shares to be helpful.  This year, he has written a book on Productivity:  Do More Better.  I've only tackled the first chapter, yet I am already challenged.  He reminds me that productivity is about living life in such a way that glorifies God and enables me to do good for others.  A huge, convicting kick.
What if I see something come across my Twitter Feed or elsewhere that I'd like to read, but don't have time to right then?  I send it to Pocket, where I can take the time to read it later or offline.  Then, if it is something that I want to keep or information I need, I have the option to send it directly to Evernote, email it to a friend, or share on different sites.
Automating My Life – IFTT
This is a great App for keeping track of the "stuff" of life.  Using "If Then Than That", I create "recipes" that synch different things across different platforms.  For instance, I have several "recipes" set up right now that send different items to Evernote—for example, when I weigh in, the weight is automatically sent to Evernote.  Some other great recipes I use send me a text of the weather each morning, send an automatic "Thank You" to people who follow me on Twitter, and if I star an email in Gmail, I'm sent a reminder to take care of the issue.  The possibilities are endless.  I even have a recipe set up to wish everyone a "Happy New Year" on midnight every year.  🙂
I have several "Smart Home" items–some Hue light bulbs, a couple of Z-Wave outlets, a Smart Thermostat and an Echo.  IFTT helps me to automate those so that I can control them using my Amazon Echo.  So geeky.
Password Remembering and Protection:  Dashlane
Thanks to Michael Hyatt, I recently switched to Dashlane.  So far, I've been very pleased.  Because my memory is terrible, there is no way I'd ever remember all of my passwords for different sites and apps.  So, I'd gotten into the habit of using just a couple of passwords over and over again.  Not very smart, in this day and age where it seems that hacking is an everyday occurrence.  Dashlane not only remembers all your passwords and logins, but also helps you to create complicated and much more secure passwords.  It's Military grade in its security, plus comes with some great features such as AutoSave.  I'm just trying it out for now, we'll see if I continue to like it as well as I have so far.
I struggle with sleep..getting to sleep and staying asleep.  I don't think there is anything that I haven't tried.  One of the several challenges I face in sleep is just getting my mind to settle and stop thinking long enough to fall asleep.  Listening to music doesn't help–I just find myself humming or singing along.  Sometimes listening to sermon and lecture podcasts help….but other times my mind engages too much with what is being said.  One app that does seem to help is White Noise.  It creates exactly what it says it does–continuous white noise that some how helps to lull me to sleep.  I can set the volume and it runs all night.  If I am awakened in the night, it is better than waking up to complete silence.
Navigation:  Waze
I am so lousy at directions that GPS technology is huge for me.  Waze is an app I discovered just a few months ago, and I've moved from Google Maps to solely using Waze.  It has saved me more than once, in needing to find the fastest route to the airport to catch a flight.  It navigates around traffic jams and accidents, and warns you of things such as hazards on the road and police presence (yep, I find that handy).  Plus, it is just fun to use.
I'm not a board game, video game, any kind of game player.  Never have been.  But this Thanksgiving my kids introduced me to Heads Up! and we've had so much fun with it.  It's Charades on steroids.  Best played with an iPad, but will work on an iPhone, if you have decent eyesight.  Best part about it?  It records the person acting out the word or animal or object so you can play it back and see how ridiculous you look.  Great fun.
Again—I'm not big on games, so when I find one that I like–well, it's a rare occasion.  I like Tenzi.  A lot.  It's fast paced, you don't have to wait on anyone, and it is simple.  Everyone rolls 10 dice, until they have all of the die with one number, like all ones or all sixes.  It's loud, fast paced and easy.  My crew likes it, and I can tolerate it.
So.  For Christmas this past year, I received a Personal Weather Station.  It's installed in my backyard, and includes an anemometer, a solar UV indicator, rain gauge, thermometer, and other geeky things–and it all communicates to a monitor in my house, via WiFi.  I then upload that data to Weather Underground–you can find my personal weather page located HERE.  Check it out.
Other apps that I use:
Actual Tools
There are some actual (as in not virtual) tools that I've come to rely heavily on.  Here are a few: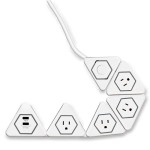 I sometimes attend meetings where there are many laptops and not so many outlets.  This flexible power strip solves that problem.  I can configure it around the leg of a table, and it stays out of everyone's way.  The two USB ports are an added bonus.   It's a tad heavier than I wish, but I've been greatly pleased with it.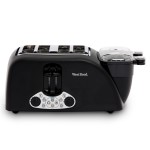 I have a special affinity for breakfast.  Gosh, I love breakfast.  And so it is no wonder that I love this toaster that makes eggs.  Yep, you read that right.  A TOASTER that makes EGGS.  It works.  And it is amazing.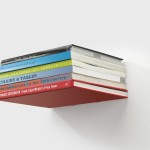 I have certain books that I like to keep nearby.  This very incredibly cool hanging bookshelf displays my most favorite books in a very minimalist and simple way.
2016:  I purchased another one of these, except it has two "platforms" for the books.  So very cool.  Looks classy and nerdy all at the same time.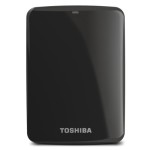 Back-up is important.  I back up my work (both for my employer and my personal work) every Friday.  This hard drive easy to use, and has adequate space for a reasonable price.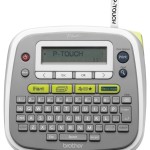 Using a labeler has been a huge assistance in keeping organized.  I label everything–file folders for items I can't keep in Evernote, boxes for storage, cables…if it can be labeled, I label it.  This little machine does the job well.
CAC Card Reader – DigiScan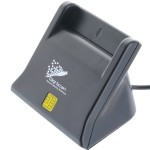 If you were with the Department of Defense in some capacity, and need a CAC card reader, this is the best one I have found.  I've tried the foldable travel readers, with no luck.  I've never had a problem with this one—I'm able to access the sites I need, plus sign the documents I need to sign easily.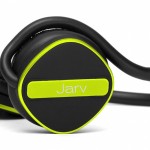 My ears are the only thing small about me, and I have never found earbuds that work.  But these lightweight, over-the-ear blue-tooth headphones work perfectly.  Compact and easy to travel with.  When I mow, I put my phone on my deck, and I have reception all over my yard–front and back.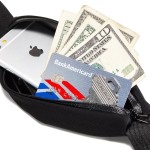 I am clumsy, and fall often.  I trip over air.  Therefore, it is smart for me to have my hands free, so I can catch myself as I go down.  I wanted something I could carry my phone (and driver's license and key, if I'm not near home) while walking/running, but something that didn't look like a fanny pack.  The Daswise exercise doesn't look like a fanny pack, is comfortable, doesn't bounce, and fits my phone, DL and a car key.  Also, it is waterproof, which is great because I walk in the rain sometimes.
Car Mount for SmartPhone – WizGear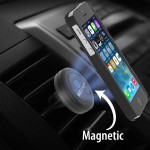 I've made the transition from using an actual GPS unit in my vehicle, to using my smartphone for maps and routes.  I know–I'm slow.  But I've finally discovered the advantages, such as the integration with Evernote and that fact that the maps are always updated.  I needed a way to be able to "see" the maps though, without running the danger of going over a bridge because I was looking down at my phone, trying to figure out where the heck I was.  WizGear solves that problem  It clips to my AC vent, and has a very strong magnet.  My phone easily attaches, and I can see where I am going–and also be able to skip songs that are playing over my speakers that irritate me.  Only about $10, and well-worth-it.
Cord Management – Velcro Cable Ties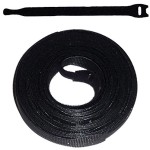 I love cable ties–always have.  That's probably pretty odd.  Anyway, I used to buy the white plastic kind in bulk–until I discovered these.  These velcro ties come in all sizes and can be reused.  If you need a longer or shorter version, you can just cut the one you have, or tie two or 3 together.  They wrap tightly and hold all your stuff together.  I use them not only for cord management, but for various travel/household/automotive tasks as well.  My most recent order netted me 100 ties, as an add-on item at Amazon, for $4.99.
Ok, I probably would never buy this myself, but someone gifted me with it, and I am having a lot of fun with it.  Her name is Alexa, she tells really bad jokes, she plays the music I ask her to play, she does math (which I don't), she knows the weather, she controls my lights, she keeps my shopping list and to-do list up-to-date, and a bunch of other things.  Plus, at night, I can tell her "Good-night", and she tells me to "Not let the bed bugs bite."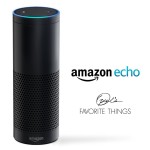 Another gift from a friend—I know have 4 light bulbs (3 white and one color) that I can control with my phone.  I can dim them, set them up to turn on when I turn onto my road, and set them up to turn off when I leave the vicinity of my house.  Using the IFTT app (see above), I have them set up to do all sorts of geeky things, like change colors when the International Space Station flies over.  Plus, I tell Alexa (the Amazon Echo) to turn them on or off, and to dim them or make them brighter.  Fun stuff.