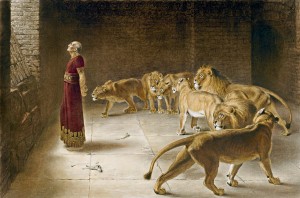 I have a quote that I keep on my refrigerator.  It's by Mary Anne Radmacher and it goes like this:
"Courage does not always roar. Sometimes courage is the quiet voice at the end of the day saying, 'I will try again tomorrow."
I have it memorized, because there are some days when this becomes my mantra:  "I will try again tomorrow."  Sometimes that is all the courage I can muster to get through particularly challenging days.
But studying Daniel has caused me to think of a different aspect of courage.  Courage that is granted by God in the face of tremendous hardship.
The definition for courage is "the quality of mind or spirit that enables a person to face difficulty, danger, pain, etc., without fear; bravery."  The nerd in me loves this definition.  I think I'm drawn to it because it uses both the words mind and spirit.  I think that courage takes both.  Both the use of the mind (given to us by God) to rationally think through circumstances, plus the spirit (in this case, I mean the Spirit of God) who actually grants courage as needed to go forward through fiery trials.
I've been intensely looking at the story of Daniel in the Lion's Den after listening to the first part of a two-part sermon based on this story as related to us in Daniel 6.  You can read my first entry by clicking HERE.
Let me catch you up.  King Darius has made a decree that no one can make a request or inquiry of gods–they must first go to King Darius.  He was tricked into making this decree by a large group of leaders that wanted to be rid of Daniel, and the only way they could figure out to dispose of him (because his life was one that stood up under intense scrutiny) was to go after his worship of the only true God.  When they "caught" Daniel praying to God, the punishment was being thrown into the lion's den.  This caused the king great anguish, because he liked Daniel very much. That's where we pick up the story, in Daniel 6:16:
16 Then the king commanded, and Daniel was brought and cast into the den of lions. The king declared to Daniel, "May your God, whom you serve continually, deliver you!" 17 And a stone was brought and laid on the mouth of the den, and the king sealed it with his own signet and with the signet of his lords, that nothing might be changed concerning Daniel. 18 Then the king went to his palace and spent the night fasting; no diversions were brought to him, and sleep fled from him.
Now please let me pause and say a word about Bible study.  We should never read into scripture what is not there.  And we should never twist scripture to make it say what we want it to say.  These are two things that I am always very cautious and careful about, and I pray that God helps me to follow those two guidelines when I study.  But I do think we can take a paragraph and make some cautious inferences to the situation.  I'd like to do that here.
The king commanded it, and it was so.  Daniel was "cast into the den of lions".  Not only was he cast in there, but then a stone was laid over the opening of the den.  I am assuming that that stone blocked out light, making what would already be a terrifying experience even that more terrifying!  To face a den of hungry lions, in the dark, knowing that the goal of your enemies is for you to be eaten alive? How does one face such a frightening and disturbing event?
I think we can infer how Daniel faced it by what is NOT said in this passage.  We are not told that Daniel went unwillingly, or that he trembled in fear, or that he cried out, or that he did anything to try to stop the inevitable outcome.  No, instead we are told simply that he was cast into the den of lions.
Surely he was afraid–I can't imagine a possibility where he would not be afraid.  But I think the difference is that he wasn't panicked.  He didn't regret praying to his God.  He knew that the God he worshipped was the one true God.  Deliver him or not, his fate was not in the hands of his enemies, but the hands of God.  And if he were not delivered, he knew where he was going.  He was going home to be with His God.  God granted Daniel tremendous courage to face this dark, den of lions with no real knowledge of the outcome.
What about you and I?  When we are facing tremendous hardship or difficulty, do we panic or do we seek out the only person who can grant us the courage to walk through that difficulty?
Sure we are afraid.  There are not many things that "frighten" me, but I have been in some terrifying experiences in my life.  I know what it is like to be in the dark, unsure of whether you will live through an event or not.  I have been very afraid on multiple occasions.  But I have been granted courage by God before in the face of these experiences.  Even before I was a believer.  Even when I was a child and a teenager.  I did not know that my courage then came from God; I now know that it absolutely did.  And since becoming a believer I am certain of times that He has granted me courage in the middle of extreme panic and fear.
So what do we do with the knowledge that God grants courage?
We don't hesitate to ask Him for it.  We tell Him when we are afraid.  We tell Him we need courage.  And He listens and hears; He sees and knows.  I've gotten to where asking for courage to face whatever a day may bring and asking for God to help me to trust Him is a regular part of my prayers to Him.  The ability to trust and to have courage only comes from God.  I firmly believe this.
So what about the rest of the story of Daniel?  Tomorrow I will look at the end of the story of Daniel in the Lion's Den, and how our God is a God of deliverance.